Do you want high efficiency, long service life and the minimisation of your maintenance costs? Then we advise you to use our Becker original spare parts!
With an optimum fit and high material quality, we ensure that your equipment and systems function smoothly. The risk of failure is reduced. Additional repair costs and unnecessary, expensive machine downtimes are avoided. We offer a fast & comprehensive availability of spare parts, practical spare parts kits for the exchange of complete components/assemblies and a flexible delivery according to your individual requirements.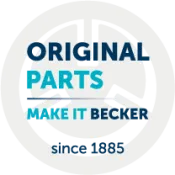 Your benefits:
Minimisation of your maintenance costs
Long service life of wearing parts
Increased machine availability
Fast & comprehensive spare parts availability – more than 2,800 different spare parts available from central warehouse
Becker spare parts kits – prefabricated spare parts packages for the quick replacement of complete components/assemblies
Flexible delivery according to your individual wishes
FAQs
How can I order required spare parts?
Our clearly arranged Becker spare parts shop allows you to order the required spare parts easily after registration: www.becker-international-shop.com
You prefer personal contact? Get in touch with us via the chat of our Becker spare parts shop, per phone or e-mail. On this page you will also find a contact form. We look forward to helping you!
How can I find the right parts for my pump?
Please identify the pump type and serial number index. You will find both on the device type plate. It is marked with the Becker logo and provides key information of your pump. (e.g. Year built, Serial number, Pump type, Frequency etc.)
Depends on the model of the pump, the pump type tag is attached at different location, however, in most cases it is to be found on the operater side of the pump. Otherwise, you may find the pump type tag for example, at the front end or in case of side channel blowers, on the silencer.
In the download area you will find the appropriate spare parts list including explosion drawing for your pump type. You can also use the search function on this website.

Does Becker also offer maintenance and repairs?
Of course we would be happy to take care of your pumps? This also includes maintenance, repairs and conversions, which we can carry out in-house or at any time on your location. Should the effort be a bit more extensive, you can benefit from our rental device service. For further information, please visit our service area or contact us, a Becker subsidiary or a Becker representative.